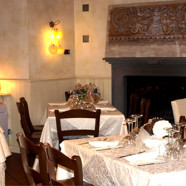 The cuisine and simplicity of ways of time-tested family traditions reveal the flavours of typical dishes in the traditions of our land, reinvented for today's palates.
Fresh and homemade: these are the bywords that characterise every dish served in our cosy rooms with fireplace or in our outdoor courtyard beneath a grapevine and wisteria arbour during the summer months.
The Mas-cì wine-cellar boasts a tradition of three-generations. Founded in 1927 as the core business (the wine-cellar was also renowned for its distant flavours, featuring Sicilian wines), it has since evolved with the family and business transitions. Today it offers the fragrances and flavours of countless renowned Italian vineyards, for moments of pure enjoyment.