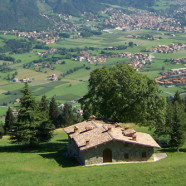 It is no coincidence that Clusone is considered a city. Its history combined with a special location make it a strategic focal point for the entire upper Seriana Valley community.
The position of Clusone's historic centre allows us to understand its historic and trade affairs. Clinging to the slopes of Monte Cimiero, which protects it from cold winds, it enjoys mild spring days in advance of the other villages in the valley.
Those wanting to acquaint themselves with the Clusone territory may take a pleasant excursion along the country roads of its upland up to the flat and wild pinewood of the Selva, bordered by the rocky banks of the Serio river.