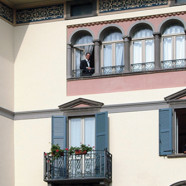 Our family's wish is to offer our guests comfortable surroundings that are welcoming and where great care has been taken in even the smallest details.
Cosy suites and rooms that look out over Clusone's rooftops and lofty mountains.
You will find us in Clusone's historic centre, in a classical-style building in Piazza Paradiso: a strategic point where the streets for shopping and services unravel near the various city's various cultural and artistic attractions. Yet, by simply taking a short walk or bicycle ride, you'll find yourself immersed in the surrounding nature.